Service Overview
In the past, disaster recovery plans require businesses to invest heavily in IT infrastructure. With new advances in cloud computing, virtualization and duplication technologies, most businesses are now able to realize highly sophisticated disaster recovery technologies easily. Cloud computing reduces expenses significantly, while software-defined processes eliminate human error and reduces recovery time.
Planning a disaster recovery strategy in the cloud allows you to complete migrating business resources within minutes without purchasing new backup software or storage hardware.
Since disasters are highly uncertain by nature (e.g. power loss, water damage, user errors, malware, or natural disasters such as typhoons), the ability of your disaster recovery team to roll back to a backup copy and get the services up and running again may be impaired.
A simple, orchestrated disaster recovery plan can drastically decrease your migration time during a disaster and thus your loss due to service disruption as well.
Azure Site Recovery offers simple deployment, cost effectiveness and reliability. It keeps your application running during planned or unplanned downtime with its deployment replica, failover cluster and recovery plan features.
Features
Simple Deployment & Management
On the Azure portal, you can set up Azure Site Recovery as easily as copying an Azure VM to another Azure region. Azure Site Recovery is a fully integrated offer that is automatically updated when Azure releases new features. Azure Site Recovery sequences the order of multi-tier applications on different virtual machines, hence minimizing issues during recovery. In addition, Azure Site Recovery can ensure your security compliance without affecting your production workload or end users while testing your disaster recovery plan. When a disaster occurs, Azure Site Recovery keeps your applications running by recovering your on-premise applications to Azure automatically during downtime or by recovering them from another Azure region.
Reduction Expenses on Infrastructure
Azure Site Recovery eliminates a secondary data center that is expensive to maintain and thus reduces your cost to deploy, monitor, repair and maintain such a disaster recovery infrastructure. You only pay for the computing resources you use in Azure to support your applications.
Minimization of Downtime through a Reliable Recovery
Simply enable Azure Site Recovery in different Azure regions to comply with industry standards such as ISO 27001. Azure's service availability and support allow you to extend your site recovery coverage to as many critical business applications as you need. Azure Site Recovery also recovers the latest data used quickly for you.
Implementation Steps
Step 1: Create a Free Azure Account
Register on Azure as a free user and enable Azure Site Recovery.
Step 2: Create a Project & Upgrade Account
Nonetheless, a free account has limitations on resources (i.e. your applications will be affected). WingWill helps upgrading the GCP account to a paying account and setting up warnings for your account charges to prevent spending over your monthly budget for IT resources. We also provide consulting and assistance on the technologies you need.
Step 3: Draft a Backup Plan & Estimate Costs
Azure Site Recovery's deployment planning tool helps you analyze, estimate, draft and execute your backup plan. This tool provides the following detailed information:
Compatibility Check
Check VM compatibility based on disk number, disk size, IOPS, churn, boot type (EFI/BIOS), and OS version.
Network Bandwidth Requirement and RPO Analysis
● Storage type requirement of each VM (standard/premium)
● The total number of storage accounts for duplication (including cache storage accounts)
● Naming suggestions for the storage accounts based on storage guidance
● Number of Azure cores to set up before test failover or failover on the subscription
● Size suggestions of Azure VM for every on-premise VM
Infrastructural Requirements of On-Premise
● Number of configuration servers and process servers to be deployed on-premise
Estimated Cost for Disaster Recovery to Azure
● Total estimated cost for disaster recovery: Computing, storage, network and licensing
● Breakdown cost of each VM
Step 4: Deploy Configuration Servers and VM Agent and Then Replicate
Deploy configuration servers in physical machines or VM's on-premise. Configuration servers can coordinate the communication between on-premise and Azure, and manage replicated data. If a backup for the data in storage running in a VM is desired, then it is necessary to deploy a VM agent in such a VM in order to replicate data to a configuration server.
Step 5: Draft Disaster Recovery Plan & Test It
After drafting a backup plan and executing it, we will help you draft a disaster recovery plan that simulates and tests whether the RPO and RTO indices will be as expected when a disaster occurs. These numbers can serve as a guide to adjusting your backup plan.
Is This for My Business?
I need to plan and establish a business disaster backup and recovery plan that is compliant to laws and standards
I need to simplify and improve the recovery process and also to reduce related costs
I need to move and migrate across platforms (Physical / Hyper-V / VMware)
Service Architecutre
Framework of VMware/physical machine backup to Azure Site Recovery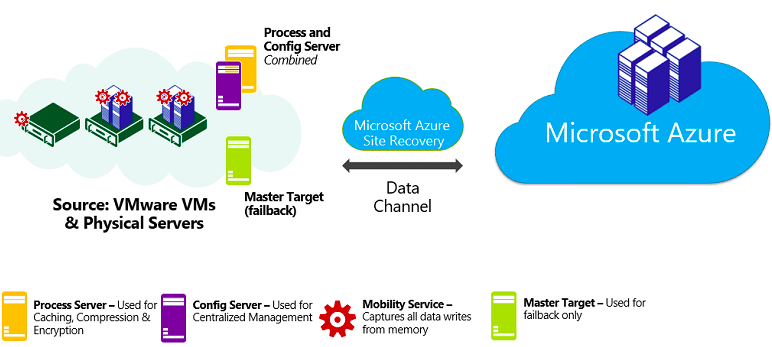 ● Process Server
Caches, compresses and encrypts replicated data information
● Config Server
Manages protected VM's or physical machines and synchronizes their status to Azure Site Recovery
● VM Agent(Mobile Service)
Captures running data from memory through TSR (Terminate and Stay Resident) and sends it to the process server
● Master Target
Process server at the target where Azure Site Recovery recovers VM or data to VM on-premise
Backup process of protected VM's and configuration servers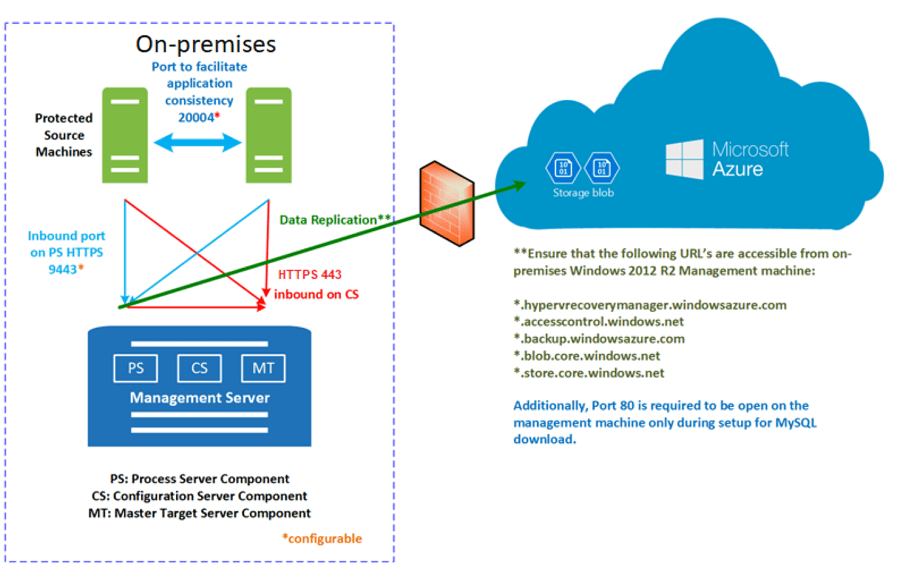 Recovery process of protected VM's and configuration servers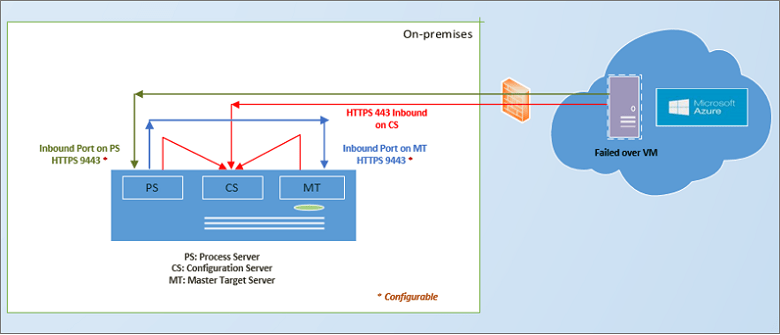 Cross-regional Framework of Azure VM Backup to Azure Site Recovery