Service Overview
Although it has been years since cloud application services became available, only in the last two year did enterprises begin to introduce such IT platforms actively. Akamai, which has observed the global development of cloud application services, believes that there are 3 reasons why businesses adopt such services now. First, cloud application services have matured and can satisfy the needs of business operations better with a comprehensive list of services. Second, the model of charging by actual usage can drive businesses' IT cost down and reduce IT workload. Finally, cloud application services reduce time to market greatly by skipping traditional IT purchasing processes and allowing businesses to create new services on cloud right away.
Security attacks and DDoS attacks are more frequent, and their scale is larger today. Akamai's global infrastructure can detect potential threats and stop these messages at the early stage of large-scale DDoS attacks. Akamai's Prolexic Routed route your traffic through Akamai's distributed scrubbing centers in Hong Kong, Japan and Australia.
Akamai Technologies, Inc. is a leading provider for content delivery network (CDN), cybersecurity, and cloud services. It provides advanced solutions for network performance, mobile performance, cloud security and media transmission. It changed the way businesses optimize customer, business and entertainment experiences on any device at any location.
Features
Improve End User Experience
Meeting users' expectations on performance is necessary for a good user experience. Our performance solution can help your business provide users fast and perfect user experience regardless of their device or location.
Deliver High-Quality Multimedia
Whether it is streaming on demand, multi-player games, or a product demo video, you and your users do not wish to have any mistake during these media delivery processes. Our media delivery solution can ensure large-scale deliveries of ad high-quality and undisrupted experience to multiple users.
Integrate with Cloud Security Service
Protecting your digital resources is critical but complicated. Our security solution that is built on the largest distributed platform can stop security attacks both nearest to your users and nearest to the source of attacks. Your site performance will be unaffected and safe.
Manage Enterprise Network Traffic
As your business grows in this digital age, the enterprise network you rely on will also grow. Our cloud networking solution can simplify the management of your enterprise applications and allow you a greater degree of flexibility, all the while solving your challenges in security and compliances.
Implementation Steps
Step 1: Apply for Akamai Resources
You need to provide the following information to apply for Akamai resources:
Current peak volume value and average traffic volume on your website
Contact person, including first name, last name, an email and a phone number
The FQDN and IP of your website to be optimized, e.g. dsa.wingwill.com.tw
Step 2: Apply for Website Credential, Set Up Platform, and Publish
You will need to provide your website credential to finish your application. Then, we will set up and publish your setting to Akamai's network. You will need to add a new FQDN and IP, e.g. orig-dsa.wingwill.com.tw, for Akamai Edge Server inquiries.
Step 3: Change DNS Pointing to Your Site and Direct Traffic to CDN Platform
We will replace your DNS A records with CNAME pointing to an Akamai Edge Server FQDN, e.g. wingwill.com.tw.edgekey.net
Step 4: Analyze Traffic Volume & Security Events and Adjust
Akamai provides comprehensive analysis reports on your traffic volume and cybersecurity events. These build-in reports help your business understand user inquiry behavior, traffic status and site content optimization.
Is This for My Business?
I want to expand my website or multimedia application globally and improve user experience
I want to simplify IT infrastructure and reduce both maintenance labor and cost
I want to deliver customized information accurately based on user, mobile device or region
Service Infrastructure
Akamai CDN framework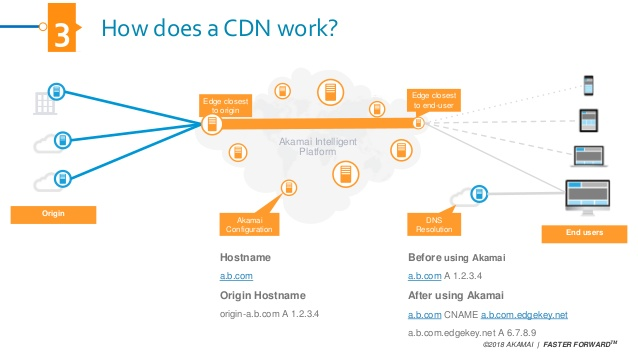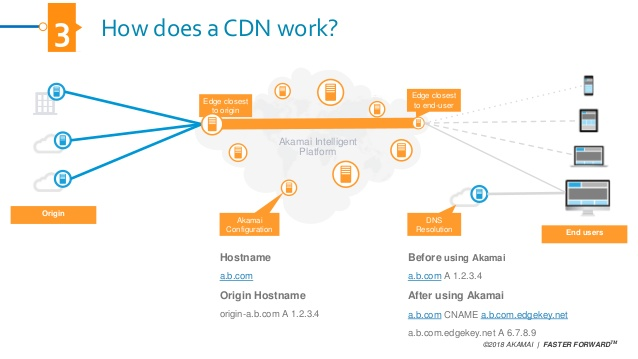 Akamai CDN caching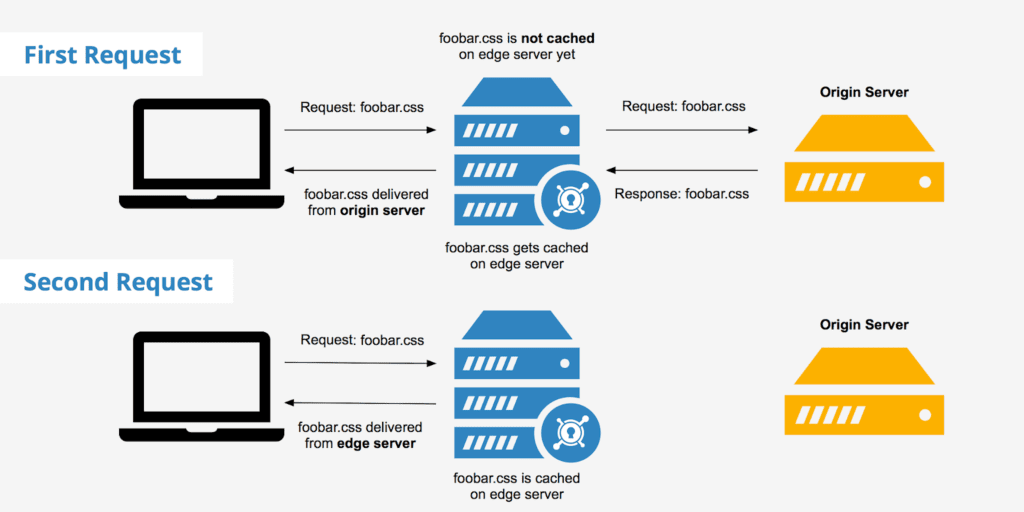 Overview of Akamai's solutions