Service Overview
As application and cloud technology develop in recent years, more and more businesses have switched to cloud platforms for their services and suffer from attacks more frequently. Early DDoS attacks focused on L3 and L4 layers. However, in recent years, there has been more focus on L7 attacks. On top of that, businesses should also pay attention to attack actions that deploy multiple DDoS methods at the same time.
Analysis on previous attacks shows that some were by hackers who launched an UDP flood in the first 10 minutes, then an HTTP flood, and finally an ICMP flood. A mix of flood attacks increases the complexity and not simply the volume of the attack. This makes cybersecurity more difficult because now businesses have to analyze and respond to attacks of different protocols and resources.
Many businesses take a traffic scrubbing service from an ISP provider when under a DDoS attack because it is convenient. However, such a service will hurt your user experience or even create service abnormality when your bandwidth is not high enough.
Akamai Web Application Protector is a new generation DDoS/WAF protection solution. It can easily protect against terabyte-level DDoS attacks on the L3/L4 layers with its CDN platform. It can also analyze attacks on L7 layer and defend them. In addition, it integrates with cybersecurity threat information globally to realize regional joint defense. You will never have to worry about potential DDoS.
Features
● Fast Deployment
A wizard helps you deploy security configuration for Akamai Web Application Protector and start protecting your applications in just a few steps.
● Accurate Detection
Akamai Web Application Protector identifies threats accurately through analysis on models of attacks that helps updating Akamai's detection logic. You do not have to manage cybersecurity policies.
● Automatic API Checks
Akamai Web Application Protector checks JSON and XML automatically.
● DDoS Protection
Akamai Web Application Protector protects your applications against DDoS attacks. It can stop attacks at the Network Layer (L3) automatically at Akamai Edge Servers. It can also respond to attacks at the Application Layer (L7) within seconds so that your application will not be overloaded.
● Automatic Update
Akamai continuously and transparently updates its Web Application Protector by monitoring attacks that target large online companies.
● Improve Performance
Thanks to Akamai Content Delivery Network, the performance improvement features such as advanced load balancing can improve the performance of your website even when attacks occur.
● Value-Added Integration
Akamai WAP offers the following modules to increase protection in different aspects:
● FastDNS
It is capable of recovering from the largest DDoS attacks. It is built on a globally distributed Anycast network. You may use it for your main or backup DNS service to replace or strengthen your existing DNS infrastructure.
● Site Shield
Site Shield provides an additional layer of defense by cloaking websites and applications from the public Internet. This will help prevent attackers from directly targeting the application origin by forcing traffic to go through the Akamai Intelligent Platform.
● Bot Manager
It offers your business a fiexible framework to better manage the large number of crawlers that visit your website. It recongnizes crawlers that visits your website for the first time and different types of crawlers. In addition, it implements an appropriate management strategy for specific crawlers.
Steps of Implementatio
Step 1: Apply for Akamai Resources
You need to provide the following information to apply for Akamai resources:
Current peak volume value and average traffic volume on your website
Contact person, including first name, last name, an email and a phone number.
The FQDN and IP of your website to be optimized, e.g. dsa.wingwill.com.tw
Step 2: Apply for Website Credential, Set Up Platform, and Publish
You will need to provide your website credential to finish your application. Then, we will set up and publish your setting to Akamai's network. You will need to add a new FQDN and IP, e.g. orig-dsa.wingwill.com.tw, for Akamai Edge Server inquiries.
Step 3: Change DNS Pointing to Your Site and Direct Traffic to CDN Platform
We will replace your DNS A records with CNAME pointing to an Akamai Edge Server FQDN, e.g. wingwill.com.tw.edgekey.net
Step 4: Analyze Traffic Volume & Security Events and Adjust
Akamai provides comprehensive analysis reports on your traffic volume and cybersecurity events. Akamai's Security Center reporting and analysis tools get your business notified and gather important data such as critical time points, affected scope, and attack methods for you so you can react to security incidents immediately. These build-in reports help your business understand user inquiry behavior, traffic status and site content optimization.
Is This for My Business?
I want to acquire DDoS and WAF protection with the least changes to my system
I want to simplify IT operation management and lower the cost of purchasing & maintaining cybersecurity equipment
I want a cybersecurity solution that can scale with my business growth
Service Architecture
Akamai WAP stops threats & attacks at the edge node closest to your end user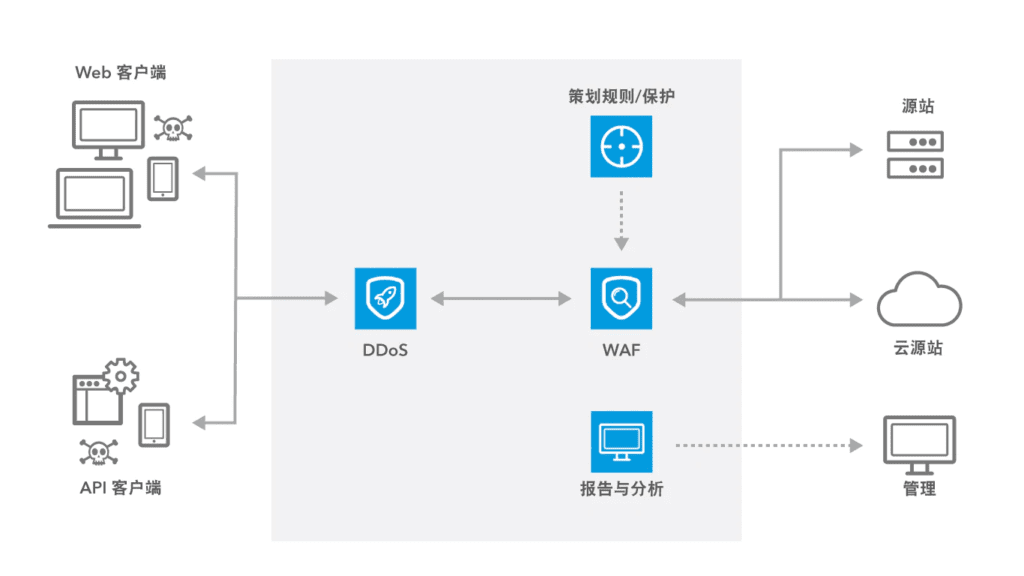 Akamai WAP consists of 4 core features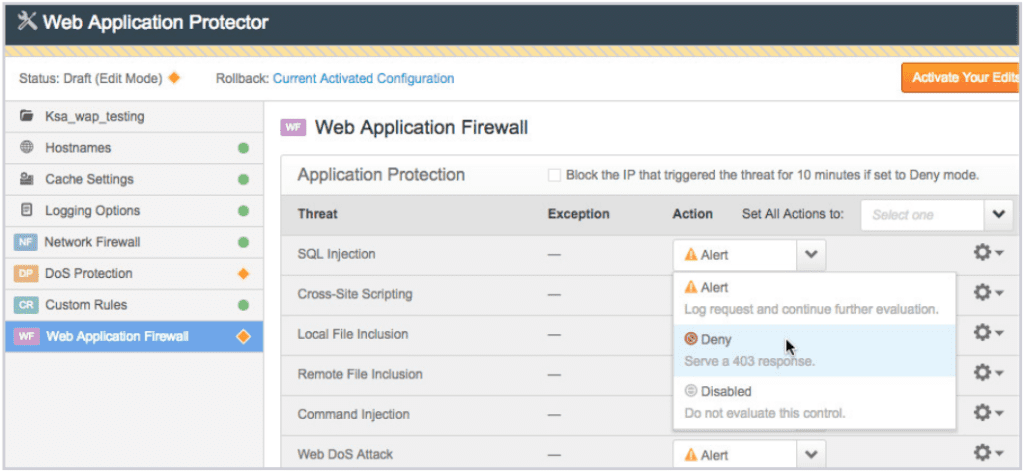 Network Firewall
Bypass/White List
Block IP Address List
Block GEO Location List
DoS Protection
Layer 3/Layer 4 Protections
Rate Limiting
Slow POST Protection
Web Application Firewall
SQL Injection (SQLi)
Cross-Site Scripting (XSS)
Local File Inclusion (LFI)
Remote File Inclusion (RFI)
Command Injection (CMDi)
Denial of Service Attack (DoS)
4. Custome Rules
圖片(Akamai FastDNS offers a fast, reliable, and safe DNS service)
Akamai FastDNS makes use of the Akamai Intelligent Platform and offers advanced DNS availability through several DNS servers at several entry points around the globe. FastDNS promises 100% uptime in SLA, so that you can always be sure that your customer and employees can connect to your website and application servers.
You can improve your DNS response ability by using an advanced DNS server when the network situation requires it. The globally distributed Anycast network can quickly analyze FastDNS from your users around the world. In addition, Zone Apex Mapping feature on Akamai reduces DNS lookup times and increases the performance of your web application even further.
Resistance to DDoS Attacks
For those DDoS attacks that target DNS infrastructure and try to disrupt your web and application servers, FastDNS offers a highly scalable DNS platform that has enough capacity to resist the largest DDoS attacks while responding to authorized user requests at the same time. Even under an attack, you will be able to offer users a solid user experience.